This is a Sponsored post written by me on behalf of MyTies. All opinions are 100% mine.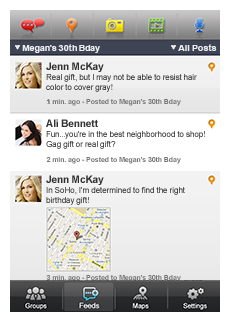 With technology as advance as it is today you would think that what you type into your iPhone would be private and secure. Well unfortunately this is not the case with most application that you may be using today. This is where MyTies.com has taken it upon themselves to create just that application.
Their application was created for users to chat using their private social networking application for your iPhone. I was amazed that with this application when they promised no advertising ever within their program for their users and they will never sell your email address.
The application looks great and has many features like privately sharing text, photos, videos and map locations to the groups or friends in your life. You also can decide what you want to share with people when you set them up in the program. This just seems to good to be true.
If you decide you do not want someone to see your information you can just delete them from your group of friends, it is just that simple. The application is a free download and will be available starting 11/03/10. Just enter in the promo code of ?My privacy? And you will get 20 more invites within the application. So you can stay connected with more friends and family.