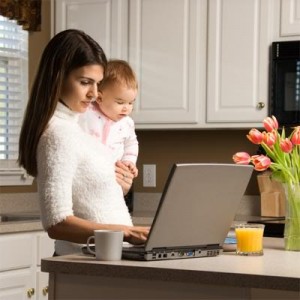 Working at home right know is available and this is very true. You can work and earn an income from the comfort of your own home. You don't need to drive anymore and change nice clothes to get to work. You can manage and control your own hours and your income. You don't to wake up early to catch the bus or transportation or to drive at work. You can also save gas this way or your fare of going to work.
There is advantage and disadvantage of working at home but for the mothers this is a great opportunity for them that they can still watch and monitor their little kids while they are also working. But you just need to set hours what time you will work that you cannot be disturb. You just need a place to work like an office of yours. The disadvantage of working at home you can't have anybody or office-mate to talk to and chat with.
I have read from the internet from one website that one blogger talk about how happy was her friend working at home and her income is more than what she earn when she work in a company. She doesn't need to be hurry to work and she also explains that she can even clean her house or do some household chores while working.
The joy of working at home can be possible these days through the power of the computer and internet that are available in our time. There are many opportunities available in the internet that you can earn an income from the comfort of your own home.  You just need to search and look for it online and find the good one and legit.
There are many available opportunities online so that you can work at home if you have the desire to look for it but you just need also the ability and skills in order to earn that income. You need to acquire the skills and knowledge but these days if you are smart you can learn that easily. When you don't have work right know develop your skills and find something in the internet.