This is a Sponsored post written by me on behalf of Bang & Olufsen for SocialSpark. All opinions are 100% mine.
Recently I started looking at upgrading my home entertainment system. What I found in new options or technology was remarkable. I found LCD televisions with amazing picture quality at very affordable prices. But what I found even more amazing was the BeoLab 14 surround speakers made by Bang & Olufsen.
The 280-watt subwoofer consists of an 8-inch driver in a 15-litre container which looks rather like a designer stool. It's within this hub that all the hard work is carried out. B&O has individual amplification and EQ adjustment for each of the attached satellite speakers. Digital signal processing controls the bass by sucking up the low-frequencies from the available audio channels and the smooth yet rumbling sound – delivered down to a sub-bass 26hz – has a warm, buzzing impact that really elevated the scene. It boomed without pushing the bass too far.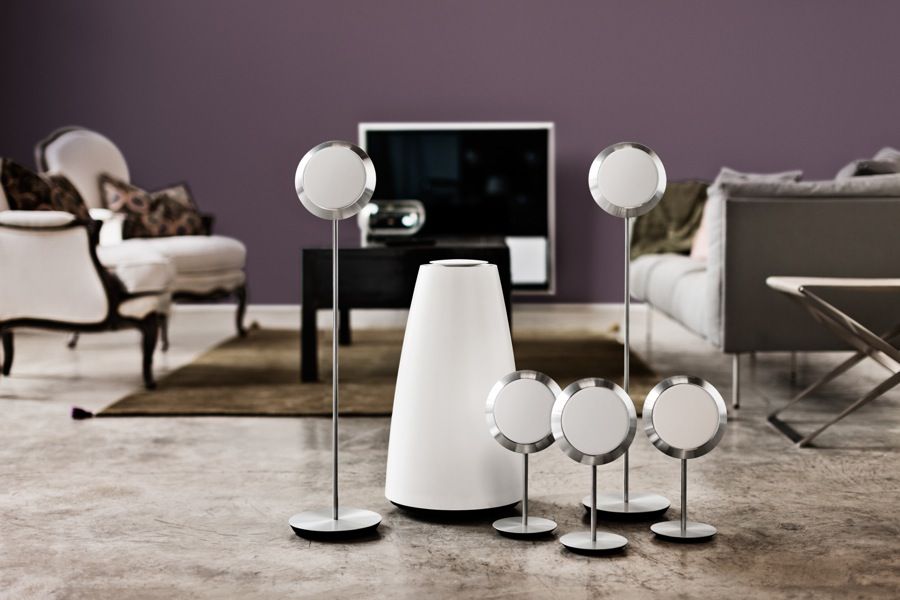 Each satellite speaker has a 2.5-inch single driver which delivers considerable clarity and decent top-end considering it all comes from the one cone. In a seated position we got plenty of sparkly top-end to the ears, even without dedicated tweeters or a high-mounted position. The sound was very firm and rich.
The BeoLab 14 subwoofer body comes in white only, though the top fabric section can be switched out to match with your decor. Hooking up to a B&O surround-capable television is a matter of plugging in the A/V multi connector, but you can also use an A/V receiver and any other brand of TV or projector.
Since you might not want to hide the vase-like sub under a table or behind the sofa, as per many box style rivals, The Bang & Olufsen includes a "positioning dial" which can quickly set it to the right sort of settings for whether it's in the corner, against a wall or bookcase, or in the middle of the floor. There's also peak volume protection, so that none of the cones burst from unexpected highs.
The BeoLab 14 will retail for $3,995 for a 4.1 system or $4,395 for a 5.1 system. This is not bad when you are talking about having a high quality entertainment system right in your own home.