This is a Sponsored post written by me on behalf of ampm for SocialSpark. All opinions are 100% mine.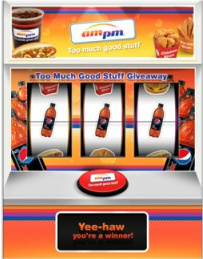 Do you enjoy winning? Yea, I know who doesn't. This is why today I am sharing with you about the "Too Much Good Stuff Giveaway" that the people of ampm are holding. You could be entered to win the grand prize trip that is too Las Vegas, Nevada.
Or you could be one of their periodic winners of an Apple iPod Nano, an Apple iPod Touch, an Apple iPad or an Apple MacBook Air just for logging into their website and playing their virtual slot machine. It is so easy to enter and it is 100% free.
The process to enter as I mentioned is so simple. First you need to go to http://www.facebook.com/ampm and complete the registration process. Then you need to play the Instant Win Game by spinning the virtual slot machine. If all three reels match when it is done spinning you are a winner of a bottle of Pepsi Max or one of 10,000 corn dogs they are giving away free to the Instant Win Game winners.
Just by playing the Instant Win Game one time after registering you are automatically entered to win the Grand Prize trip to Las Vegas, Nevada. Now who wouldn't want to win one of these prizes and it is absolutely free to enter and play.
If you haven't been in an ampm store today you might want to stop by and try one of their Thirst Oasis drinks, which has up to 24 flavors of different fountain drinks, a choice of crushed or cubed ice, and a fresh condiment booth. You just might be surprised at how good it is.