This is a Sponsored post written by me on behalf of Kia Rio for SocialSpark. All opinions are 100% mine.
Have you seen the all-new 2012 Kia Rio? You will not believe all the features that are packed into this new car. One of the best features of the new Kia Rio is where Kia Motors and Spotify have partnered to complete the "Best Songs with your Windows Down" playlist. This is where you can build an online playlist where you can add your favorite songs to crank up any time when you've have the windows down.
This is really very simple and it has a Voice-Activated UVO Infotainment System powered by Microsoft. You just need to follow the steps below. But the deadline for submissions is April 15.
Go to the Kio Rio Facebook Page and search for the song you want added: "Best Songs with your Windows Down" playlist.
Enter your name and email and then click Submit.
Alternatively, if you surf around in Spotify, you can submit songs to this playlist there, via clicking one of the promotional display media for this Rio Playlist promo, and then entering the song in the fly out box that comes up.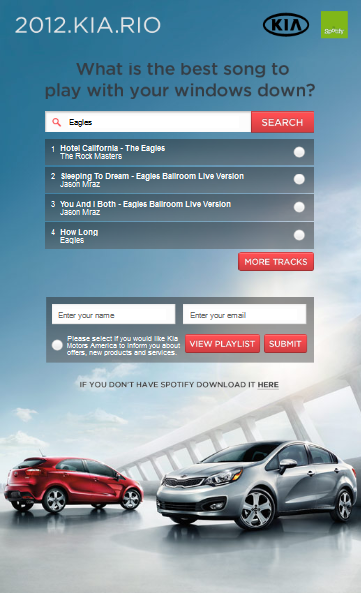 Once you've submitted your own pick, open up Spotify and then you can listen to all the songs currently on the playlist. After doing that you can click on the little white circles to add the songs you' have chosen for your playlists. You can even download Spotify which gives you thousands of music to listen to for free. Most of my personal playlists are comprised of various Blues music, Classical and Classic Rock. Blues music and Classical tends to not fit the best song with your window down idea, so I went with more of a classic rock one.
So let us know what song you submit and then you can roll the windows down to let the world hear? By the way, don't worry if you have already submitted your song but haven't seen your choice yet. It will take some time for them to review your playlist before making it live. Have a great summer and enjoy the music.