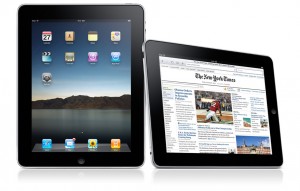 Apple enthusiasts and technology geeks like myself have been waiting for January 2010's Apple Computer's CEO Steve Jobs' keynote speech. During his presentation, it was rumored that he will finally reveal the release of the much anticipated first Apple's tablet computing device. Somehow we have been calling it, "iSlate."
Now we know it is officially called "iPad."
My first impression: "It is a huge iPod Touch!" (with a big, big exclamation mark.)
Then, Steve Jobs convinced me by discussing the iPad's features and its capabilities. The display area is definitely larger in comparison to the iPhone/iPod Touchs. It is actually more than twice, measuring 9.7 inch with 1,024 x 768 resolutions. Also it is really bright. The display uses the technology called IPS (in-plane-switching) LCD which provides wide viewing angles and quick response times.
The iPad supports multi-touch just like iPhone/iPod Touch. (of course!) If you already have an iPhone and/or iPod Touch, you would already know how to use 90% of the iPad features. In addition, iPad can run most of Apps that you already own for your iPhone/iPod touch plus many others. You do not have to re-purchase them again through the iTunes store which means it would save you hundreds of dollars if not more. You just "sync" your iPad with your iTunes. It's just that simple.
iPad is not just bigger than iPhone/iPod Touch. It runs very fast because it uses the new A4 CPU ("A" presumably for Apple.) Do you remember the speed difference between the iPhone 3G and the newer iPhone 3Gs? Didn't you feel really good? Then you are going to feel it even better this time and you are going to love it. I guarantee it.
The larger display has the almost full size software keyboard feature so you can use this device like a laptop computer. (I hope you are not going type with your thumbs like you do on iPhone/iPod Touch.) Apple is going to release their business application suites such as iWork which includes Pages, Numbers, Keynote, etc. very soon.
"Sounds like an another expensive gadget from Apple. How much is iPad?"
We both agree that Apple is very famous for having expensive gadgets. It was rumored that it would be starting at just under $1,000 because of the recent successes with price reduction of the iPhones and iPods sales. Nope, it is Not. Think again. It comes in lower than that. The base model starts at $499 with 32Giga bytes of storage and wifi. (Cheaper than the original iPhone!)
Now the best news, there are several ways to get the iPad for $0.00 (yes, its FREE.)
"How?"
Currently there are several programs, contests and surveys are being offered in exchange with a free iPad. These are offered by third party sponsors and companies. You just need to follow their instructions to be eligible for a free iPad. To get started, go to http://www.GetFreeIPad.us
in Computers.