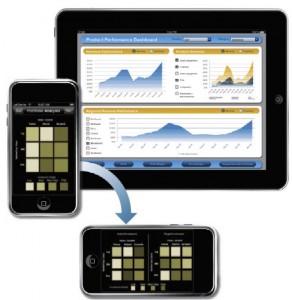 The decision to abandon window-based user interfaces on smartphones and touch-screen tablets has prompted a revolution in user interfaces called multi-pane instead of multi-window. Started by business intelligence apps like Microstrategy's Mobile, the trend was recently validated with Sprint's new Kyocera Echo, which sports a built-in dual-pane user interface based on Android extensions.
Multiple panes, rather than multiple windows, are already being harnessed by a wide variety of apps, and thanks to the crusading efforts of Sprint, a whole raft of multi-pane Android apps will be announced at the CTIA Wireless conference to be held in Orlando, Fla., this week. The applications are in areas as diverse as productivity, entertainment, social networking and gaming.
Multi-pane apps can use separate devices to display different panes—here an iPhone controlling the business intelligence graphics displayed on an iPad. (Source: Microstrategy)
Microstrategy pioneered the multi-pane motif for business intelligence with its Mobile app, which allows a meeting leader to create business graphics on, say, an iPhone and then direct meeting attendees to view them on an iPhone, iPod Touch, iPad, BlackBerry, Android or laptop PC.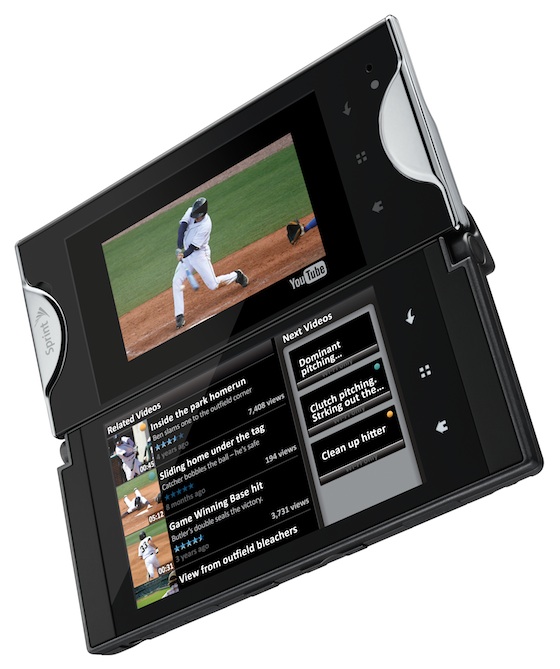 Now Sprint's choice of the multi-pane Echo is attracting application developers from every segment of the software market, according to John Chier, director of Corporate Communications at Kyocera.
"You have a change of culture going on, which is all about multitasking—many people have dual displays on their PCs—and studies show that over 70 percent of people watching television do something else with another electronic device at the same time," said Kyocera's Chier.
Kyocera's Echo has a novel hinge that supports the two screens lying flat and uninterrupted, or at an angle to resemble a tiny laptop. Application developers can use the dual panes to run independent apps side-by-side on the two screens, the two displays can be configured to do complementary tasks in an over-under view, or a single app can spread its images across a single large canvas comprising both screens.
Sprint's Echo, made by Kyocera, shows multi-pane apps on its two built-in displays, here using the top for watching YouTube videos while the bottom screen queues up the playlist. (Source: Sprint)
"Multitasking for other smartphones is a matter of toggling between screens, but the dual-screen configuration of Echo gives us the opportunity to do true multitasking on a smartphone with a tabletlike experience," said Atsuhiko Kanda, product manager for the Echo smartphone.
The most novel multi-pane mode uses the two screens for the same task, such as bringing up a keyboard on the bottom pane while displaying results of typing on the top. Echo's VueQue built-in app demonstrates this mode by allowing users to watch YouTube videos on the top touch screen while using the bottom touch screen to browse, queue and buffer up a video playlist.