This is a Sponsored post written by me on behalf of Sprint for SocialSpark. All opinions are 100% mine.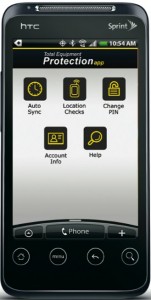 Many of us own an Android or Blackberry cell phone and because of the value of our phones many of us are starting to worry about security from theft or even loss of the cell phone. And for this reason Sprint has listened to their customers they have created this all new app for your cell phone called Sprint Total Equipment Protection App.
This app has all or many of the features that us as the user has been looking for as Android or Blackberry cell phone user. This allows us options like locate a lost or stolen phone, remote wipe the phone if lost or stolen, a way to lock the phone from unwanted users, able to sound an alarm if someone tries to use your phone without your permission and also allows you to easily sync your contacts. We all know how frustrating that can be.
If you hurry over to Sprint is holding open enrollment so you can get and try this new app today for free from August 1-30, 2011 to see how you too can keep your phone safe. After the 30 free trial you will only pay $8.00 per month for the continued use of the Sprint Total Equipment Protection App.
So now you can take advantage of the network integrated GPS technology and know that your Android or Blackberry is a little safer from unwanted users. Hurry and try the software it was designed with the user in mind.