This is a Sponsored post written by me on behalf of GFI for SocialSpark. All opinions are 100% mine.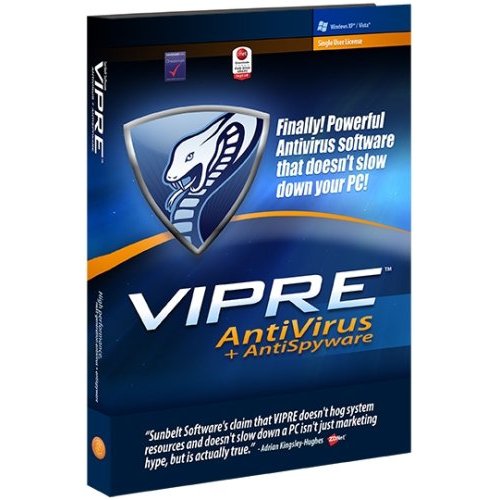 Today we are going to talk about virus software, specifically Vipre Antivirus Software. This software has had a number of good reviews from many people and magazines. So I decided to take a look at their product and see what everyone has been talking about. What I have found with the Viper antivirus, firewall and antispyware software is first off extremely simple to install and use.
The Viper's interface is extremely user friendly and very simple to figure it out, now this can be somewhat confusing to the tech savvy people that are used to having a lot of settings to adjust. But the Viper Antivirus software works great Windows XP, Windows Vista and Windows 7. The software also seems to run extremely fast without slowing down my computer during normal everyday use.
With the Vipre software I was able to get complete email, web or internet and file protection. So you can be assured that when you download an attachment or a file from the internet, cd/dvd or flash drive that you will be completely safe and secure. The software does give you the option to adjust the security level for your email protection and your firewall protection. Other features of Vipre are listed here.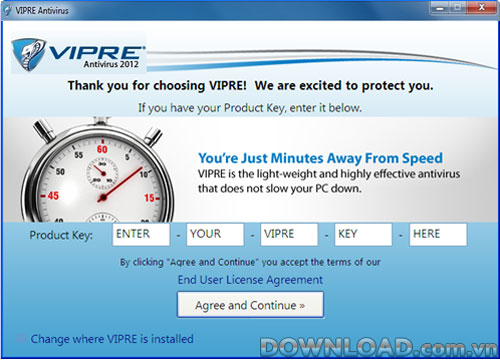 VIPRE detects and remediates

viruses

, spyware, rootkits, bots, Trojans and other malware via a single, powerful anti-malware engine.
VIPRE utilizes an advanced technology stack to scan large volumes of information quickly, with minimal performance impact.
VIPRE finds and disables malicious hidden processes, threats, modules, services, files and alternate data streams (ADS) on user systems.
VIPRE monitors and protects against malware threats including zero-day threats, in real time. It leverages multiple detection methods, including heuristics, behavioral analysis and traditional signature based technologies, to analyze malware.
VIPRE includes comprehensive protection against email viruses and phishing scams, with direct support for Outlook, Outlook Express, Windows Mail and any email program that uses POP3 and SMTP.
VIPRE includes a remote device scanner that auto-scans removable drives and files for threats.
To install the software you will be required to have an email address and a connection to the internet that will be used to download and install the software. This is also how you will get your license key that is needed during the installation. There is nothing else that will be required for the installation, it is that simple. In the past I have used McAfee, Norton and AVG and have found that all of them slow down my computer and have many settings that need adjusting. Also, there were pop-up's that need to be answered, which can be confusing for many.
I highly recommend the Viper Antivirus software that can be purchased at vipreantivirus.com or if you are still unsure you can try it risk free by downloading and installing their trial version. This can be upgraded to a full version if you decide you like it. Now you can protect your computer and keep the speed of your computer running in the fastest and safest condition without the risk of viruses. I hope you will take the time to visit vipreantivirus.com for more information and your chance to try the Vipre Antivirus Software risk free today. You can also follow the for more information here http://www.facebook.com/GFIVIPREAntivirus.